Manny Pacquiao dominated an overmatched Shane Mosley to retain his World Boxing Organization welterweight title via a lopsided unanimous decision at the MGM Grand Hotel in Las Vegas.
Pacquiao repeatedly peppered Mosley with sharp combinations, forcing the American to be on the defensive for much of the one-sided bout. The Filipino champion floored Mosley in the third round with a right straight-left hook combination from which Mosley never fully recovered. After tasting the sting of Pacquiao's punches, the former three-division champion rarely went on the offensive and spent much of the remaining rounds trying to anticipate where Pacquiao's next blows would come from.
The three judges scored it 120-107, 120-108, and 119-107.
Mosley was credited with a knockdown in the 10th round after Pacquiao fell back on his behind. Replays showed Pacquiao was pushed and it also appeared Mosley was stepping on Pacquiao's foot. But Pacquiao was so dominating that round that based on the official scorecards, none of the judges gave Mosley the standard 10-8 score.
Outside of that phantom knockdown, it was all Pacquiao. Mosley was never into the fight, unable to get any type of offense going and at times already cringing even before a Pacquiao punch landed.
Pacquiao saw his record improve to 54-3-2 while Mosley slipped to 46-7-1 with one no-contest. The fighting congressman from Sarangani is slated to face Juan Manuel Marquez on November 12, while the 39-year-old Mosley will likely retire after losing badly for the second time in his last three fights.
More Pictures: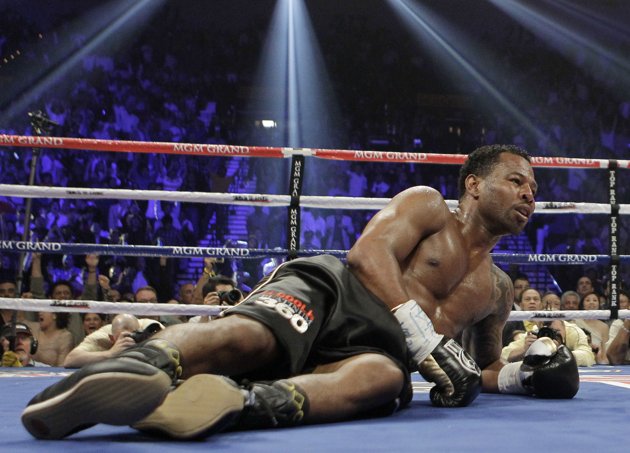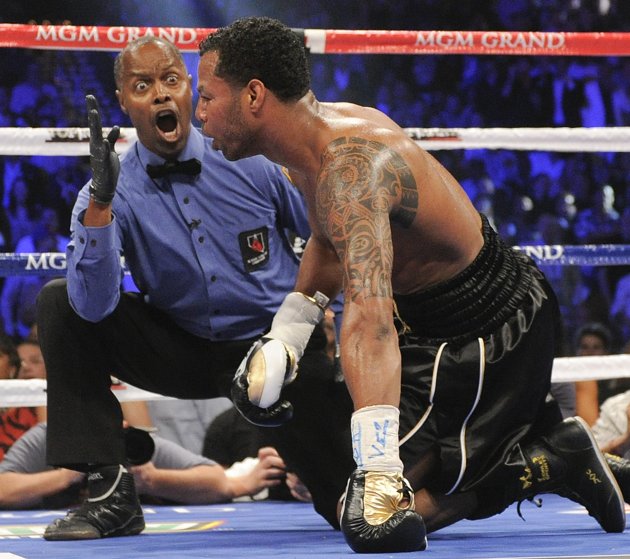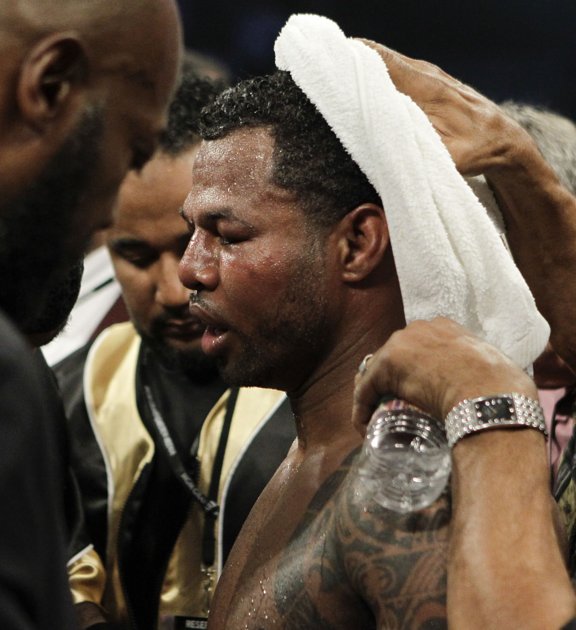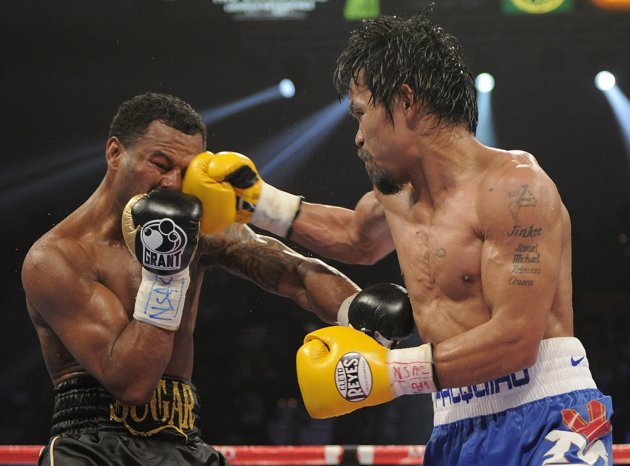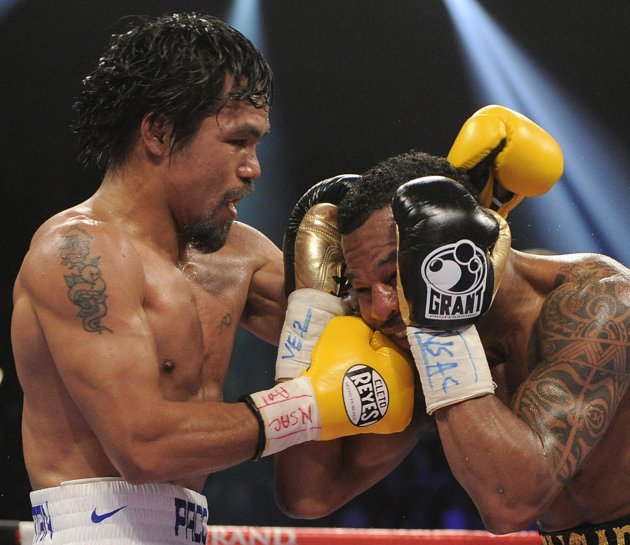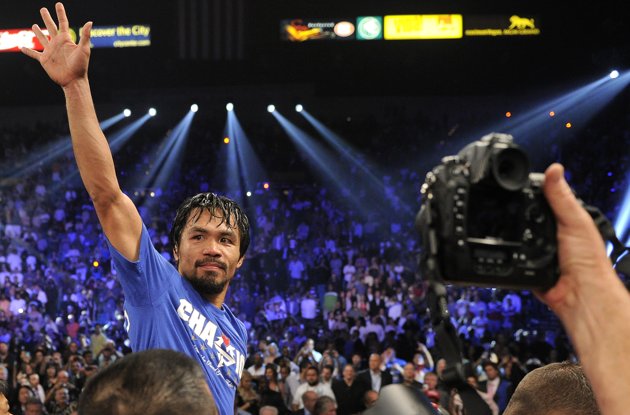 Pacquiao knocked down Mosley with a left hook in the third round, a punch that sapped Mosley's willingness to engage. Pacquiao ran after Mosley the rest of the fight, but the former champion who has never been knocked down in 18 years in the ring managed to stay away enough to finish the 12th round upright.
After the match.
MANNY PACQUIAO blamed Shane Mosley's negative tactics for leaving fight fans fuming last night.
He said: "It wasn't my best performance but I did my best. I did not expect this result.
"I was expecting him to fight with me for at least five of the 12 rounds so we could test each other's power.
"I did my best to try and give a good fight but what can I do? It is not my fault."
The pound-for-pound king added: "After the knockdown I felt I had him and that I could finish him.
"But the next round I have a problem with my left foot, it is tight. I told my coach to press my legs because they are too tight."
Sugar Shane, however, preferred to praise the multiple-weight world champ instead of focusing on the quality of what may have been his last outing as a pro.
Mosley said: "I fought the best fighter in the world. He has exceptional power, power that I've never been hit with like this before."
Pinoys in UAE celebrate Pacquiao's victory
DUBAI, UAE - Ten-time and 8-division world champion Manny Pacquiao did not only underline to the world his stature as the best pound-for-pound king but he also cemented his distinction as the People's Champ, particularly of migrant Filipinos. Filipinos in the United Arab Emirates joined the celebration as Pacquiao successfully defended his World Boxing Organization (WBO) welterweight title against 4-time world champion Shane Mosley.
They see in him a great source of inspiration who showed to the world that Filipinos are competent and resilient. As early as 5 a.m. Sunday, Filipinos who mostly took time off from work trooped to various Filipino bars and restaurants in the Emirates to watch the fight and cheer for their champion.
The fight was telecast live by TFC (The Filipino Channel), which had the exclusive rights from Top Rank Promotion to air the fight in the Middle East. Allan Crisostomo, club manager of Rocky's Café located at the Regent Palace Hotel in Bur Dubai, said that Pacquiao is a symbol of national unity.
"Whenever he fights, we are all united on his side and he uplifts our morale especially us who are working abroad," he said. Some Filipinos were spotted wearing yellow shirts in solidarity with Pacquiao wearing yellow gloves as a symbol of his advocacy to fight poverty in the Philippines. Pacquiao is Sarangani representative in Congress.
Although Pacquiao won via a lopsided unanimous decision, some fans were left wanting after his fight with Mosley. They were disappointed and sorely missed the hard-hitting action in his previous fights against Juan Manuel Marquez and Antonio Margarito. Michael de Guzman, who runs an online boxing forum among Filipinos in the UAE, blamed Mosley for not going toe-to-toe against Pacquaio. "After the third round, when Mosley was sent to the floor, Pacquiao could have ended the fight - at the most in the fourth round - but Pacquiao only chased Mosley most of the time," de Guzman said. He also criticized referee Kenny Bayless for giving Pacquiao a knockdown count when it was clear during television replays that Pacquiao had an off balance punch and was "pushed" by Mosley's right hand. "Mosley mostly played very clever. He knew he could not withstand the firepower of Pacquiao so his right arm was not used for punching but only to cover his face," observed Joel Cuestas, manager of Philippine House Restaurant in Al Nahda, Sharjah. However, he also lauded Mosley for being a true sportsman who did not engage in any trash talking and accepted his defeat gallantly. After Pacquiao's victory against Mosley, all his fans were unanimous in saying that his next bout should be against Floyd Mayweather. Then he can retire at the top of his boxing career and remain a legend.